I would like to start by saying I have a love/hate relationship with Christmas. I LOVE Christmas music, Christmas decorations, the look of pure joy in the kids' eyes when they open their presents, the fact that it is Jesus' birthday, & receiving presents of my own (who doesn't
haha
), but I hate that I don't have the time to do
everything
like I want to which leaves me feeling rushed, anxious, & exhausted, the commercialism of Christmas, the fact that the kids' get so many presents that they open in 1/2 a second & then ask "is this all", spending SO much money to make it all happen, & the fact that I work in the hospital which never closes so I always have to work Christmas eve night or Christmas night. Now that I've got all that out of the way, let me tell you & show you my family's absolutely wonderful Christmas!!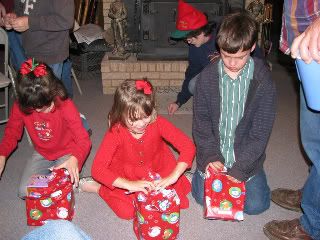 Christmas eve I was off work (YEA!), but I did have to work the 2 nights before, so I had a hard time getting everything done that I needed to do because, after all, I did need to try to squeeze in a little sleep so I could at least moderately function! About 6pm we headed to my mom's parents' Big Mama & Papa's house. We usually just bring stuff to snack on there, & since I didn't have time to cook anything I was lucky that Super 1 had deli trays 50% off, so I got a cracker/ meat/
cheese
tray to take
which was a big hit. We also had sausage balls, chips & dips, cookies, brownies, etc. Quite a few aunts, uncles, & cousins came so it was a full house & my grandparent's keep their heat on like 80, but luckily I thought ahead this year & wore a short sleeve shirt. My grandparent's give us money to buy the kids' presents from them, so we got them all Fur Real Friends newborns that make little noises & move when you feed or pet them - so cute! & the kids loved them!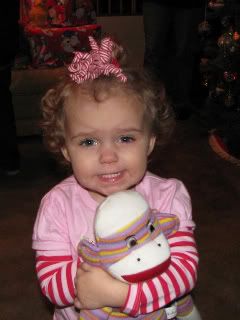 After that we went to my mom &
stepdad's
Nana & Pawpaw's house for the kid's to open presents there. They had a blast! My favorite present that they got were sock monkeys, they all got a different colored striped one. Kalli's favorite was My Little
Ponyville
. Zoe's favorite was Littlest Pet Shop fitness center. Tad's favorite were pirate
Legos
. I think Sophie's was
Dancy
Dance
Brobee
from Yo
Gabba
Gabba
. They played for a little bit, then we headed home. I always get the kids coordinating pajamas so they''ll look good for the Christmas morning pics. I used to wrap them & let them open them before they went to bed, but they would get upset because it wasn't a toy, so this year I just gave them to them right before bed.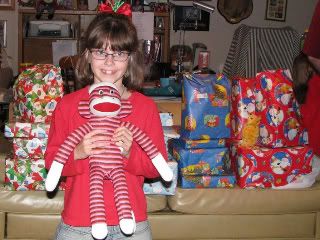 It took awhile to get them settled down to go to bed so Santa could come & I was so tired since I didn't get much sleep that day so I fell asleep for awhile. Theo & I got up at 1am to get Santa stuff ready. We always wrap about 1/2 the presents & just put labels on the rest & distribute them under the tree that way it takes them a little bit longer since they have to find their presents before they can open them.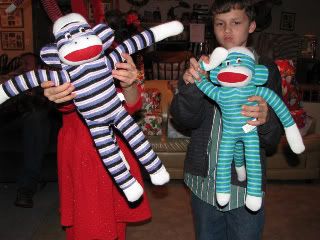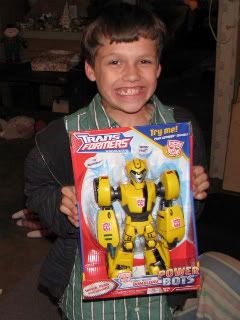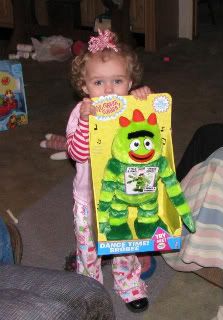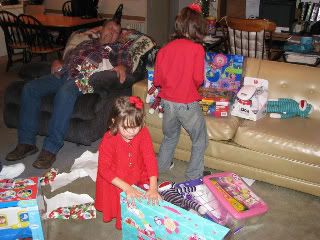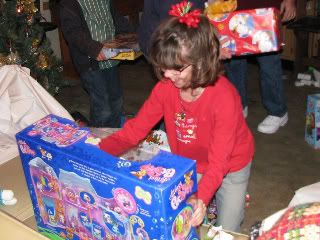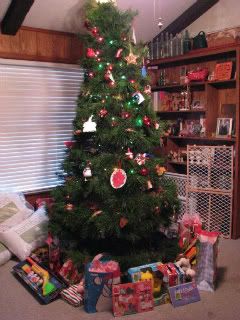 Then it was Christmas morning. We had told the kids they couldn't wake us up until 7am & I think they actually slept until 7:45. We put up a blanket between the living room & bedrooms so they can't see anything until we are ready. Then we let them loose like a herd of cattle to the Christmas tree. Wrapping paper was flying everywhere! Sophie was a little slow to get started, she had a low grade fever & had just woken up. Kalli's favorite was her cat
Webkinz
she named "snowy". Zoe's favorites were Littlest Pet Shop figures & Littlest Pet Shop game for Nintendo
DS
. Tad's favorite was
Funkeys
plush. I think Sophie's favorite was her singing Wow! Wow!
Wubbzy
. Then they looked in their stockings & saw that the plate of
cookies we left for Santa was empty except for a few crumbs. Then comes the really, really fun part where mom & dad have to open all the boxes of toys with all the twisted wires that had my fingers all twisted up in knots after about 5 minutes. After all the presents I reminded the kids what today was all about - the birth of Jesus. Luckily I just HAD to take a nap since I had to work that night, which was great
because
I was absolutely exhausted after all that fun!