A doctor I work with and his wife just had their 11th child and each year she sends out a 12-14 page Christmas letter detailing their family's year. She has inspired me to do the same, though I doubt mine will be as interesting or eloquently written.
January
- Our family is getting used to having a new addition - our sweet Sophie, who is now a week old. Vicki is a little tired from frequent night waking, but Theo helps out to keep her from losing her sanity. Vicki is very happy to be on maternity leave this month and had planned to do detailed cleaning of each room while off - she only got to maybe 1/2 a room, forgetting about how much time a new baby takes up and is eagerly following the "sleep when the baby sleeps" rule. The kids go back to school after the winter break on Jan 9th. Zoe is in the 2nd grade and we just adore her teacher Mrs. Craft. One weekend Zoe comes running into the house screaming "Mrs. Craft is moving across the street!" It turns out it was her parents which is still great because Mrs. Craft visits often and one of her children is Kalli's age - that is nice because our neighborhood is lacking in kids her age and they became fast friends. Tad is in 1st grade with Mrs. T. Walker who is an excellent teacher, but doesn't have kids of her own so she is quick to discipline Tad's normal boy behavior. He gets notes sent home for everything from throwing a ball over the fence to spitting on a girl for calling him "Tad Tacos". His class does Readers Theater every month where they read a script in front of the class and parents can come - being on maternity leave Vicki was able to attend this month, Tad is quite a reader! This month was Martin Luther King Jr's Birthday and the class had to write a paper completing the phrase "I have a dream"....... which we found out Tad's dream is to be a garbage man when he grows up! Kalli goes to Parents Day Out at Colonial Hills Baptist Church every Tues and Thurs - she is in a Pre-K class there where they learn skills necessary for kindergarten. She loves it!
February
- Vicki had to go back to work at ETMC Feb 3rd and was so sad to leave her baby! It's good for Theo to have her to himself though and did great. Vicki was a guest lecturer at Tyler Junior College in her Aunt Jeanne's Human Growth and Development class which affirmed her decision to go back to school for her Masters in Nursing to be a Labor and Delivery Nursing teacher.
March
- Zoe has her 2nd grade musical called "Kids Rock" and open house. The kids enjoyed their Spring Break. Theo had his vasectomy this month and recovered nicely so there will be no more Nackos children from our clan. Zoe had her 8th birthday on the 30th where she got her favorite present - a Nintendo DS.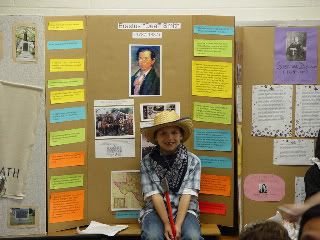 Tad had a presentation at school that day, they were studying Texas History. He dressed up as, and talked about Erastus "Deaf" Smith (who we had never heard of before we helped him with this project, and now know far too much about him!)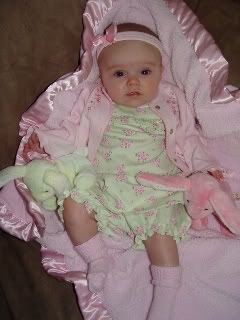 April
- It snowed! On the Saturday of Easter weekend a few snow flurries fell and did not stick of course, the kids loved it though! We spent Easter at Big Mama and Papa's house with some of our cousins and had what was, I think the kid's 3rd or 4th egg hunt between school parties, birthday parties, and Theo's work. Theo was trying to fill up other kids baskets with candy so we would have less for our kids to take home (we've had some high dentist bills in the past). On the 21st Zoe and Tad had their birthday parties at the Whitehouse City Park. Zoe's was a Barbie theme and she had strawberry shortcake per her request. Tad's was SpongeBob Squarepants, whom he is rather obsessed with right now. He even has a collection of every SpongeBob thing he can find around the house or can beg off of other people. This day Sophie also turned 4 months old which meant she got to try solid foods! We fed her (or attempted to at least) some rice cereal - yummy! She is rolling over and only very occasionally laughs - guess we're not as funny as we thought we were?! Vicki celebrated her 32nd birthday with a dinner and a couple of daiquiris at Outback Steakhouse. She was also very excited when the girls at work chipped in to get her a pedicure and had a small party for her with a yummy cake, since she had to work on her birthday.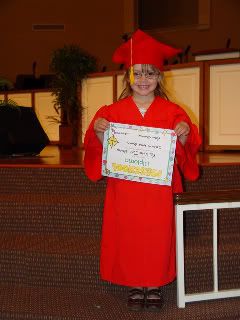 May
- Tad turned 7 on the 8th and was excited to get a Nintendo DS also (which I think he suspected since Zoe received one on her birthday). Tad had his 1st grade musical on the 9th where he dressed up and sang "It's great to be a plumber". Kalli graduated from preschool this month. Vicki finally went to get her birthday pedicure which was her 1st one ever and it was wonderful, she'll maybe make it a birthday tradition. The kids last day of school was the 31st.
June
- Theo and Vicki celebrated their 12th wedding anniversary on the 10th. The girls got their hair cut short for the summer (girls meaning Zoe and Kalli because sadly Sophie has little hair). The kids enjoyed being out of school and playing with their neighborhood friends riding their bikes and scooters, going from backyard to backyard as Vicki freaked out when they've been gone too long and Theo reassured her they'll come home eventually!
July
- Vacation! We went on a fast and furious 8 day vacation to Utah (which equals 4 days of driving and 4 days of fun in Utah). We had a family reunion with all of Theo's family and the kids enjoyed playing with their many cousins.
August
- Theo started a different job at Brookshire's Warehouse when we got back from vacation where he is in charge of reclamation. He now works Mon-Fri 8am-5pm which works out well for our family since one parent is always home. Kalli's 5th birthday was the 19th; she had a care bear's themed party at Kids Depot and had quite a turnout. Vicki's stepdad Randy and grandfather Papa both had surgery on the 21st - Randy's went off without a hitch but Papa ended up with aspiration pneumonia and ended up in ICU. Vicki took the kids to the zoo before school started.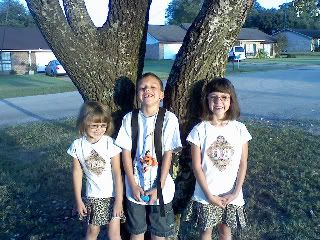 The kids started back to school on the 27th. Zoe is in 3rd grade at Higgins with Mrs. Dove who thinks Zoe hung the moon and Zoe feels the same way about her. Tad is in 2nd grade and has the same teacher that Zoe had (yea!) Mrs. Craft. Kalli started Kindergarten at Cain and has Mrs. Dawkins - did anyone catch the fact that they are in 3 different schools! Needless to say they ride the bus and thankfully they love it. Vicki has picked them up on a couple of occasions and it took about an hour! Sophie also started daycare this month since her babysitters (Zoe, Tad, and Kalli) had to go back to school. She is going to Mother's Day Out at First Christian Church. Luckily she only has to go once a week so Vicki can sleep since Theo works during the day now. She doesn't like it very much though since she is very attached to her mommy and fusses a lot. She also got her 1st tooth this month and started crawling.
September
- Zoe and Kalli joined Girl Scouts where Zoe is a Brownie and Kalli is a Daisy. Tad also joined the Cub Scouts. Now our Mon and Tues nights are filled with meetings, luckily the Girl Scout leader is our neighbor so the girls don't have to go far. We took the kids to the East Texas Fair where they had a blast, but Theo, Vicki, and Sophie not so much!
October
- Zoe was chosen to be a tunnel cat with her BFF Shelby where she got to run through the players' field entrance tunnel at a Whitehouse Wildcats varsity football game - that was super fun! We took a weekend trip to San Antonio where we went to Sea World, The Alamo, The Riverwalk, and The San Antonio Zoo. The whole family had so much fun and we even got to meet Theo's brother and his wife Reno and Starlyn at Sea World. For Halloween Zoe was a spider princess, Tad was a muscle commando, Kalli was an angel, and Sophie was a butterfly. We went trick or treating the night before Halloween at the high school and on Halloween through our neighborhood where the kids made out like bandits! Papa was still in the hospital though out of ICU now.
November
- Kalli had her kindergarten fall musical this month where she sang "The Woodpecker Song". The kids got out of school for the Thanksgiving holiday. We enjoyed a feast at Big Mama's (Papa has now been moved to Rehab and is doing much better), and then went to Vicki's Aunt Janice's to visit with Vicki's dad and stepmom. Sophie is walking holding on to stuff now. Zoe was awarded the Kid with Character Award for respect. Theo turned 33 on the 24th and is really enjoying his new job.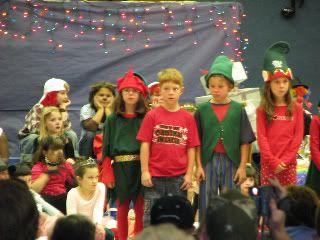 December
- Ahhhh winter!! If you call 70-80 degree temperatures at times winter! (Though it has been 30-40 a couple of times). Zoe had her 3rd grade musical called "40 winks until Christmas" where she played a dual role of a nice cousin in which she wore pjs, robe, and slippers, and an elf - which thanks to Theo's creativity had a cute elf costume. Sophie is walking now so it's about to get busy up in here at the Nackos house! She now has a whopping 8 teeth! Someone had to get stitches this month and it wasn't one of the children - Theo slit his wrist (he says Vicki drove him to it). Seriously he stabbed his wrist at work and had to have 2 stitches in the muscle and 3 on the skin (OUCH!). That night we had already planned to go to the Christmas tree farm to cut down our Christmas tree, but we had to have the owners help due to Theo's injury and Vicki's lack of ability (or desire) to do anything physical. We chose a beautiful 9 foot tree which turns out is the exact height of our ceiling, so our angel is leaning a bit!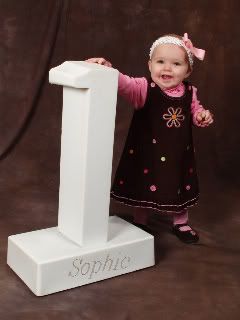 Sophie turned 1 on the 21st and we had a princess birthday party for her the week before with a few friends and family. The week before Christmas was very busy for Vicki, 3 school Christmas parties, 2 kids with ear infections, and a partridge in a pear tree (HAHA funny). It also included Vicki's work Christmas party and Christmas shopping. Theo and Vicki left the kids at Vicki's parents Nana and Papa for a sleepover and knocked out all the kids Christmas shopping in a mere 6 hours and 4 stores! The kids got out of school 4 days before Christmas for their winter break. Christmas Eve was spent at Big Mama and Papa's (yes he's finally out of the hospital - yea!), and then the kids opened presents at Nana and Papa's.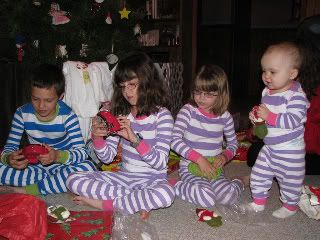 Christmas morning the kids were delighted to see what Santa brought, and Theo and Vicki were tickled to see their house looking like an ad from Toys R Us! Sophie has started to climb now, so we're waiting for more bumps and bruises! It is now New Year's Eve and the girls are having a Girl Scouts sleepover and we are at home having a rockin' party of snacks, games, and TV - bet you wish you were here!