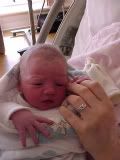 In September 1999, when Zoe was only 5 months old, I found out I was going to have another baby! Oops! We knew we wanted more kids, but maybe not quite this soon. I was not very happy about being pregnant again so soon & didn't think I could love another baby as much as I loved another baby. All the comments from everyone about me being pregnant AGAIN & don't we know how this happens (HAHA) didn't help me feel very excited. But we soon got used to the idea of having children 13 months apart & made the best of it! It was kind of a family tradition anyway since my brother & I are 13 months apart and my mom & her brother are only 11 months apart.
My OB Dr. P was no longer delivering babies so I had to pick a new doctor Dr. H. We decided to find out whether we were having a boy or girl this time, so halfway through the pregnancy we were excited to find out we were having a boy!
I did pregnancy aerobics throughout the pregnancy to help try to control my weight gain since (obviously) I had not lost all my baby weight from my prior pregnancy. After one night of pregnancy water aerobics I started having alot of regular contractions at only 35 weeks - I had been having irregular Braxton-Hicks contractions for weeks now. I laid down, but they did not go away. So we headed to the hospital. I was having contractions on the monitor, but was only a fingertip dilated. An hour later, however, I was 1 cm so they stared an IV & gave me several doses of Brethine (which I must say the shots sting very badly & it makes your heart beat out of your chest, so now I could empathize with my patients now!) gave me a sleeping pill & after awhile the contractions slowed down & I did not dilate anymore so they sent me home. Over the next few weeks I dilated to 2-3cm 70% effaced & was definitely ready to have this baby since I had been pregnant for like 2 years now LOL!
On Monday May 8, 2000, I woke up having very regular & a little bit painful contractions, so I called the dr office to see if they could change my afternoon appointment to the morning. We took Zoe to Nana & Papa's house, loaded the suitcase (just in case), & headed to the dr around 10am. When I got there they put me on the monitor & I was having regular contractions & was 3cm dilated, so Dr. H sent me to L&D to have a baby - hooray!! We went straight there, they got me admitted, then I walked for 1-1.5 hours & made it to 4cm. Dr. H broke my water, but I wasn't hurting badly enough for my epidural yet -- until I had like 2 more contractions & then I was ready! I rested for a few hours & we discussed a name for the little guy since we had not for sure decided. We were thinking about Thaddeus, but I was not completely sold until my Big Mama told me I had a great-great-grandfather named Thaddeus. A little before 4pm I started feeling the urge to push, I was 10cm! When Dr. H arrived, I pushed once & had a baby! He had a knot in his umbilical cord, but was born breathing & crying with no problems - praise the Lord!
Thaddeus "Tad" Ilia Nackos (I picked the nickname since Theo picked the name) was born 5/8/00 @ 4:11 pm weighing 7 lb 8 oz & was 20.5 inches long. And you know the part I talked about not being able to love another baby as much as my 1st baby, well those fears went away as soon as I held him in my arms! He was such a cutie-pie - pretty much bald with blue eyes. He was perfect! Zoe wasn't too impressed though, she was much too busy for all that! He breastfed so easily like every 2 hours 4 or 5 times, then slept for 8 hours. What more could a new mom ask for?!? It didn't take long for Theo & I to get used to being parents to 2 kids only 13 months apart!
Now at age 9, the only boy of the family, he is a great guy! He is so smart, curious, & adventurous which can be frustrating at times - like when you open the refrigerator to find a toy in the milk ("I just wanted to see if it would float & turn the milk a different colors"), toys in the syrup (also to see if it would float), or soap bubbles in a cup in the freezer (to see if they would freeze)! He keeps us on our toes! I love having a crazy boy in the midst of all the girly drama!