We have had a very busy month!
Easter was fun. The kids all had Easter Egg Hunts & parties @ their school except Zoe (I guess they think 4th graders don't need any fun!). On Easter Kalli & I went to visit First Baptist Church - Whitehouse. The service was held @ the high school so there was more room. We enjoyed it very much! We then had Easter dinner @ my parents' house & relaxed!
I have had a ganglion cyst for over a year & haven't had any problems, but recently it has been causing a lot discomfort. It is pretty small & on my right wrist. I had it looked at by Dr. M & she referred me to an ortho doctor Dr. L. The appt is next Monday & Dr. M thinks they'll try draining it first. Ouch! I'm very nervous because I don't tolerate pain very well. Seriously I don't - I get light-headed, nauseous, & feel like I'm gonna pass out. I will have to have someone on stand-by to come get me if needed.
Last Wednesday night & Thursday morning Sophie could not walk on her right foot. Theo took her to Dr. M-pedi & she couldn't find anything wrong with it. Throughout that day she just slowly started to walk on it & by that night she was running & jumping like normal. Weird huh?!
Birthday parties, birthday parties, birthday parties!!! We went to birthday parties for 5 children this weekend! The first was my dear friend London's son & niece's combined parties @ Kids Depot 2000. That afternoon we went to birthday parties of friends from Kalli's & Tad's classes at school. But get this, they were at the same time, at the same place. How cool is that?! They were at the Skateplex. I normally don't mind the place but the air conditioner was broken! Anyone who knows me knows I don't like to go very many places without my air conditioning! It was also really muggy since it had rained that morning. The kids had fun though so I guess that's what matters!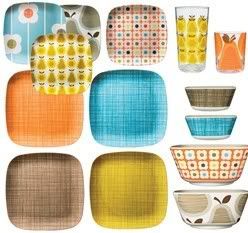 Now for the most important part of the post...........My birthday!!! It is Tuesday April 28th & I'll be 34 - I'm not too ashamed to tell you that! Last night Theo & the kids took me out to dinner to my favorite restaurant Outback. I got my usual - Aussie Cheese Fries with ranch, the Victoria's Filet medium well with A1 sauce, baked potatoe, & house salad with ranch YUMMY! Left no room for dessert darn it! We then went to Target to buy diapers, but ended up buying my birthday present in addition - DISHES!! They're by Orla Kieley & I just love them! I didn't get all the pieces shown, but you get the idea what they look like. I am on-call on my birthday so hopefully *fingers crossed* I won't get called in!
We will end with: Cute thing Sophie said this week
Mommy "I love you"
Sophie "I love you"
Mommy "I love you too"
Sophie "I love you three"