Monday
– It all started early morning when Theo & the kiddos picked me up from work. I had worked Friday, Saturday, & Sunday nights which meant Theo did most of the packing so we just prayed that we had everything! I was pretty tired after working all night so I slept on & off, mostly when the kids were sleeping, in between the "how much longer?"s & the "she's touching me!"s. They did have their Nintendo DS's, but unfortunately we forgot their headphones to watch the DVD player. We got lost a couple of times, once took us on a little detour through the corner of Oklahoma, but no big deal. In Santa Rosa, New Mexico, about one mile from the gas station & two miles from our hotel we ran out of gas! Theo got to hike to the gas station to get gas while I got to stay in the van with the 4 kiddos & try not to lose my mind! Kalli our little drama queen was very upset thinking we were going to have to sleep in our van on the side of the interstate or daddy would never make it back & then when a police car pulled up behind us with its lights on, she thought we were all going to jail for sure!! But they just wanted to know if they could help & I said we were fine thanks & they went on their way. While we were sitting there I was able to get on the internet using our lovely borrowed air card & make hotel reservations, which if you have 6 people you have to stay in 2 rooms so we always have to tell a white lie that we only have 5 which I personally think is completely ridiculous but oh well. Theo was lucky enough to catch a ride back to the van for a small fee (he gave them the gas can he had to buy at the gas station), & we were able to make it to the gas station & finish filling up. Then we were off to the hotel The La Quinta (Theo gets a discount there), sneaking in the back door so they wouldn't know we had 4 kids instead of 3! Now we had to figure out what to have for dinner, so Theo drove down the road & unfortunately most of the restaurants were closed down in this town(what's up with that!), but luckily within walking distance there was a nice restaurant I think it was called Route 66. This restaurant served Italian, Mexican, & American food & there was only 1 employee in the whole place (that we could see at least) who had to take our orders, work the cash register, answer the phones, & maybe even cook the food too for how long it took to get served. The food was OK but very overpriced & they charged for refills which is not a good thing with thirsty little kids so we HAD to get refills. Needless to say dinner cost us a small fortune, but we all had full bellies to go to bed!
Tuesday
– We got up early to have complementary breakfast in the hotel & be on our way. I don't think we got lost once this day, but the "how much longer?"s came much more frequently as we were all anxious to get there! Sophie was very fussy today from having to be strapped in her car seat for so long. It was a very pretty drive through New Mexico, Colorado, & into Utah. We finally arrived to our destination of Moab, UT to stay with Theo's sister Alina, her husband Brian & their 4 rambunctious boys, & Theo's parents met us there too. The kids were so happy to be out of the car & play with their cousins. Moab is a big tourist town, so you could see people from all over the world speaking many different languages everywhere you go.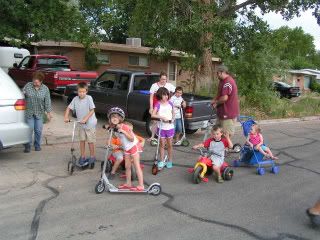 Later that evening the kids scootered to the park & we followed behind on foot. This park was really cool – it had musical instruments, a tree house, 2 playsets, & right behind it was a pond were the kids could catch all kinds of bugs & creatures. They had a blast!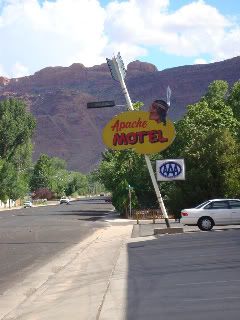 They even borrowed someone's ramp & tried to jump it on their scooters scaring me to death! Since there was not enough room for everyone to sleep comfortably at their house & Theo's parent's camper named the "Casita", Theo, Sophie & I (the other kids wanted to spend the night with their cousins) stayed at The Apache motel which is where John Wayne stayed when he was filming in southern Utah. Bet you're jealous!
Wednesday
– We went to Arches National Park & hiked to the Sand Dune Arch. Luckily it wasn't a very long hike since I'm fat, out of shape, & the altitude is like a million feet! The sand was in the shade so it was nice & cool but it felt like you were walking on quicksand. When we got to the arch we sat in the sand & watched the kids play in the sand, climb, & squeeze between rocks. Lots of fun!
In the afternoon, the kids decorated visors with their names on them. That evening we went for a swim @ Mill creek, but I didn't wear my swimsuit because I just wanted to be an observer. It was a short hike, some of it through water, so my plan to stay dry was already shot as the bottom of my Capri's & flip-flops were soaked.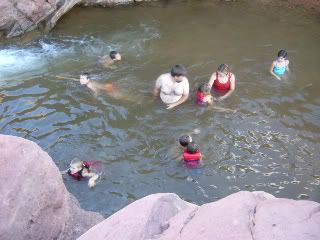 We got to a dry spot where we could sit on the rocks & watch the kids. They jumped & swam, slid down the small waterfall, & played in the dirt. I finally was able to convince Sophie to put her feet in the water (she didn't have her swimsuit on either) & splash a little bit. She has taken a liking to Ryder the youngest cousin closest to her size & began to follow him a little further in the water. The next thing I know she slips down the waterfall & goes under the water. I tried to grab her leg & missed. I jumped in (in my clothes) along with Uncle Brian, luckily she floated right to Tad who saved the day! She didn't even cry & I think she held her breath the whole time so she didn't breathe in any water. I think it took me a lot longer than Sophie to recover! Grandpa got the whole thing on video, so I may post it someday when I get over my trauma. Afterwards we went back to the famous motel where Kalli decided to join us this time.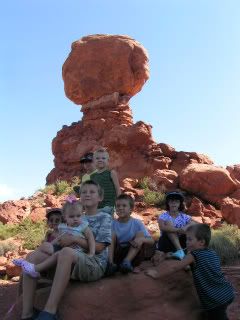 Thursday
– That morning we went back for another fun time at Arches. We hiked around Balancing Rock which is a huge rock balanced a pillar that could fall at any time. Then we hiked to Double Arch which unlike our hike the day before was completely in the hot dry sun! When we finally made it to the arches I was so tired that I just sat on a rock near the bottom in the shade & watched the kids climb up to the top. Somehow I managed to make it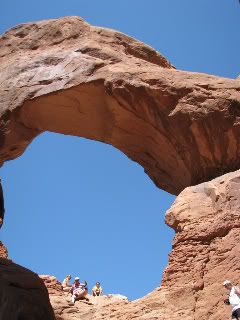 back to the van without collapsing, and it hardly fazed the kids a bit other than being a little thirsty. That evening we drove up the Lasal Mountains (I think) into the Manti-Lasal National Forest to camp at an old forest service cabin at Warner Lake. This elevation seriously was like 9400 feet so it didn't feel like there is any oxygen here! The cabin was small with a kitchen, a bedroom with 2 twin bunk beds & another twin bed, no electricity & NO BATHROOMS! Are you kidding me! So I got to walk a little ways to an outhouse to go potty, which I am not an outdoors girl at all so this is quite a different change of pace for me.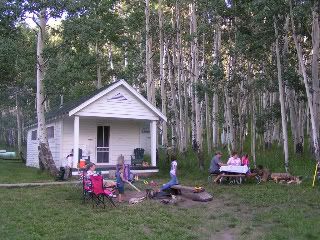 The outhouses were kept up very clean so I guess it could have been a lot worse. Alina, Brian, & the kids slept out in the tent, Grandpa & Grandma slept in the Casita, so we got the bedroom all to ourselves. We had a lot of fun, we roasted hot dogs & marshmallows on the fire & played card games. The view from the front porch was amazing – huge mountains like a painting & the lake.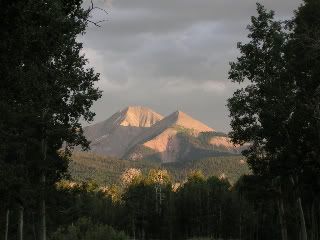 Friday
– Theo took the kids on a canoe ride on the lake today, I decided Sophie & I would opt out of this considering our water adventure earlier in the week. They did some fishing, made mud pies, played with playdoh, just lots of fun things.
Theo, his parents, and I went on a short hike that could have been longer if it weren't for the lack of oxygen & Kaylene's bad knee, but we did get to see some nature – pretty flowers, trees, & bugs. We saw many dear at the cabin, some would come very close to the cabin. At one time there were four of them grazing nearby, what a lovely sight! It was very cool so high in the mountains, so I didn't miss the air conditioning so much. When the sun started to go down it got cool enough to need pants & light jackets.
Saturday
– Everyone went on one more short hike before leaving our mountain cabin & drove back to civilization. That afternoon we left Moab & drove to Theo's parents' house in the metropolis of Payson, UT.
Sunday
– The kids went to church with Grandma and Grandpa, their teacher said they were so polite, Zoe's teacher even wrote a nice note about her. We didn't really do anything exciting this day, just kinda relaxed.
Monday
– The cousins Athena & Alexis came over to play, & Zoe went to her cousin Olivia's house to play. Tad was feeling a little left out with all the girls around! They played outside & had lots of fun. They made puppets to perform a puppet show later in the week – Zoe, Tad, & Kalli made rabbits, Athena made a bear, & Alexis made a unicorn.
Grandpa took them on a walk by the train tracks close by. Kalli got something in her shoe & bent down in the middle of the tracks to remove it just as a train was coming. Luckily it was Tad to the rescue again and he got her off the tracks in time & before Grandpa had a heart attack. The conductor saw the kids & tooted his horn at them, hooray! Sophie didn't like the sound of the train one bit since it is so close to their house & very loud, she would cry & run to us every time it came by.
Tuesday
– Theo took the older three kids to play at his sister Lisa's house. She has a park close by so they got to ride their scooters along with Olivia.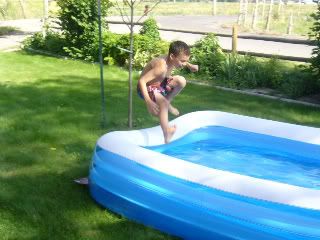 Grandpa blew up a little pool in the front yard for the kids, which was nice because it was 100 degrees. That night Theo & I took the older three to see Wall-E which we all absolutely loved! Sophie got to stay with Grandma and Grandpa, who she hasn't completely warmed up to yet, but she did just fine.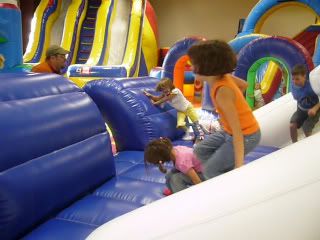 Wednesday
– The kids played in the pool some today. That night we all took all the kids & cousins to Jumping Jacks in Springville where they had tons of fun. Some old friends of Theo's met us there with their kids so it was nice to catch up.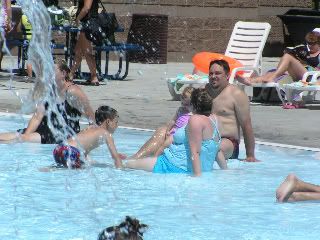 Thursday
– Theo & I took the kids to the Payson Pool. It is really cool like a mini water park. It has a lazy river, two big water slides, & a kiddie area for smaller kids. It took awhile for Sophie warm up to the water, but ended up enjoying herself & so did the other kids. We were only there two hours & even though I slathered sunscreen on my pale self still got sunburned.
Friday
– We got up bright & early to go to Salt Lake City which is about an hour away to take some things to Theo's brother Reno & his wife Starlyn for their new house. They had to move because they're having their 1st baby, yea! This baby will make the #20 grandchild for Theo's parents. Theo & I took the kids to the Clark Planetarium to the IMAX theater to see Deep Sea 3D. It was so awesome! Sophie wouldn't wear her 3D glasses though. After the movie we walked around the planetarium for a little bit, had lunch with Reno & Starlyn, & headed back to Payson. On the way home we saw a fire truck & noticed some smoke in the mountains over Payson. We decided to drive over for a closer look & discovered that it was a huge wildfire burning on the mountain. We went to Lisa's house where we had a good view from her backyard. We began to see tanker planes & helicopters dropping chemicals & water trying to contain the fire. Theo took like a thousand pictures & videos. They were not sure how the fire started, probably a spark from an electrical wire.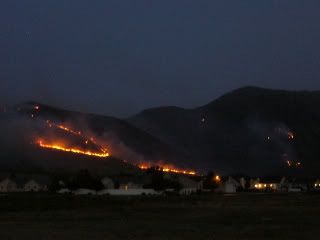 By that night, the fire was moving farther down the mountain & they had to evacuate some homes. Theo & I took a break from the excitement to go eat just the two of us. The first restaurant we tried to go to was closed since it after 9pm (everything closes down really early here), but were able to find somewhere that was open called Mi Rancherita, a nice little Mexican restaurant. The food was pretty good except they didn't serve any mixed alcoholic beverages (boohoo) only beer – apparently this is quite common in Utah – so no margarita for me! Afterwards I had Theo take me & Sophie back to his parents house far away from the fire & he went back to Lisa's to watch the fire some more.
Saturday
– By this morning, the firefighters had the fire pretty much under control without any damage to houses. We had a pretty boring day until the puppet show! The play was called The Two Little Rabbits, One Little Bear, & the Big Bad Bear (or something like that) a take on The Three Little Pigs. They added their own cute lines like "not by the whiskers of my nosy-nosy-nose" – so cute!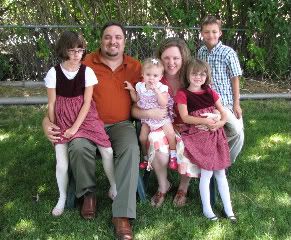 Sunday
– We all went to church with Theo's parents. Sophie wasn't very cooperative, so we sat out in the lobby. We had a relaxing day until we had to start packing to leave the next day.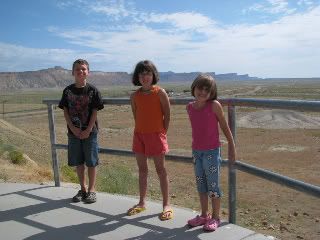 Monday
– We got up early to start out long trek home. We went a different route this time into Colorado – which I LOVE driving through the Rocky Mountains. We bought some speakers, so we had the DVD player to help distract the kiddos –
YEA! We drove through a storm in eastern Colorado, but at least we got to see a beautiful double rainbow! We stopped in Hays, Kansas for the night at the lovely Days Inn since they had no La Quinta for us to use our discount – BOO!
Tuesday
– Theo turned the alarm off, so we actually slept in until 9am. I actually read a whole book & half of another (last book I read was on vacation a year ago). So I tried to ignore the "how much longer?"s & sibling rivalries. Sophie was extra fussy. But finally we made it back to glorious Whitehouse, TX to sadly put an end to our fun Utah Vacation 2008!